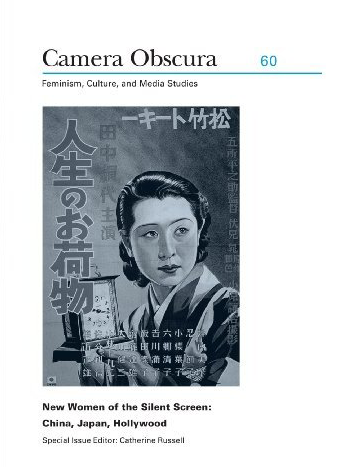 Special Issue Editor. Camera Obscura 60. Fall 2005.
Mitsuyo Wada-Marciano, Carleton University, Imaging Modern Girls in Japanese Silent Cinema
Chika Kinoshita, University of Chicago, Actresses in the Transition to Sound in Japanese Cinema
Catherine Russell, Concordia University, Naruse Mikio's Silent Films: Gender and The Discourse of Everyday Life in Interwar Japan
Sara Ross, University of Hartford, The Americanization of Tsuru Aoki
Yiman Wang, Haverford College, Who Is Afraid of Anna May Wong? And What Can Be Said About a Dragon Lady?
Weihong Bao, University of Chicago, From Pearl White to the White Hibiscus: The Vernacular Translation of the Serial Queen Thriller in Chinese Silent Cinema, 1920s