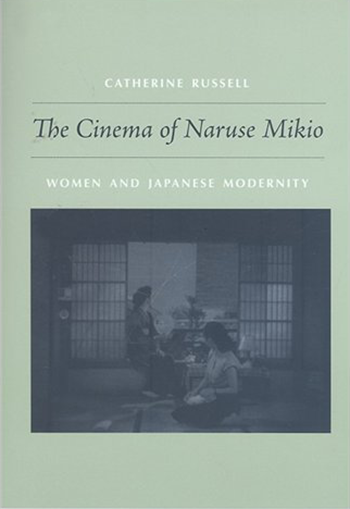 Durham NC: Duke University Press, 2008.
One of the most prolific and respected directors of Japanese cinema, Naruse Mikio (1905–69) made eighty-nine films between 1930 and 1967. Little, however, has been written about Naruse in English, and much of the writing about him in Japanese has not been translated into English. With The Cinema of Naruse Mikio, Catherine Russell brings deserved critical attention to this under-appreciated director. Besides illuminating Naruse's contributions to Japanese and world cinema, Russell's in-depth study of the director sheds new light on the Japanese film industry between the 1930s and the 1960s.
Naruse was a studio-based director, a company man renowned for bringing films in on budget and on time. During his long career, he directed movies in different styles of melodrama while displaying a remarkable continuity of tone. His films were based on a variety of Japanese literary sources and original scripts; almost all of them were set in contemporary Japan. Many were "women's films." They had female protagonists, and they depicted women's passions, disappointments, routines, and living conditions. While neither Naruse or his audiences identified themselves as "feminist," his films repeatedly foreground, if not challenge, the rigid gender norms of Japanese society. Given the complex historical and critical issues surrounding Naruse's cinema, a comprehensive study of the director demands an innovative and interdisciplinary approach. Russell draws on the critical reception of Naruse in Japan in addition to the cultural theories of Harry Harootunian, Miriam Hansen, and Walter Benjamin. She shows that Naruse's movies were key texts of Japanese modernity, both in the ways that they portrayed the changing roles of Japanese women in the public sphere and in their depiction of an urban, industrialized, mass-media-saturated society.